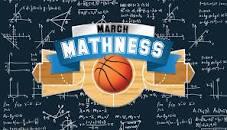 March Mathness begins on Monday, March 2.
Math brackets will be sent home your child on Monday, March 2 and all completed brackets are due back by Friday, March 27. There are brackets for Kindergarten - Grade 1, Grade 2 & 3, Grade 4 & 5, and Grades 6-8. Work with your family and have some fun together doing some math.
Prior to our school pause we had close to 100 entries! Thank you for working on math at home with your families. Prizes will be awarded upon the return to school. Keep working hard on your math skills at home.