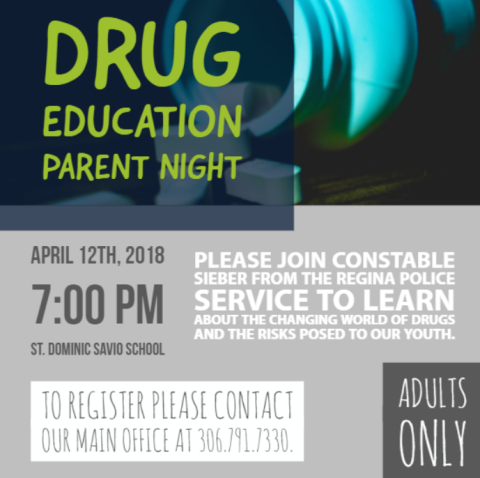 Thank you Jamie Neigum, Principal of St. Dominic School, inviting the Hunt community to attend this event.
Message from Principal Jamie Neigum: 
There is a lot changing in the world of drugs and drug use. Social media, pop culture, and growing up in an generation where information is at our fingertips, has created an environment in which our children's understanding and experience of drugs is much different than what we experienced as children. As parents and teachers, it is important to educate ourselves so that we may better meet the needs of our children and to ensure we are guiding them to making healthy decisions.
School Resource Office, Constable Sieber, has worked with the Drug Unit for the Regina Police Service for many years and has a great deal of knowledge to share. On April 12th, 2018 at 7:00pm, St. Dominic Savio School will be hosting a Drug Education Parent Night for Regina East schools. At this presentation topics such as drug use in our city/trends, warning signs of use, and provincial laws will be addressed - including information regarding the legalization of marijuana and the effects and implications it will have on our communities.
Please come join us. RSVP by calling St. Dominic Savio School at 306.791.7330. Please note that this is an Adult Only event.